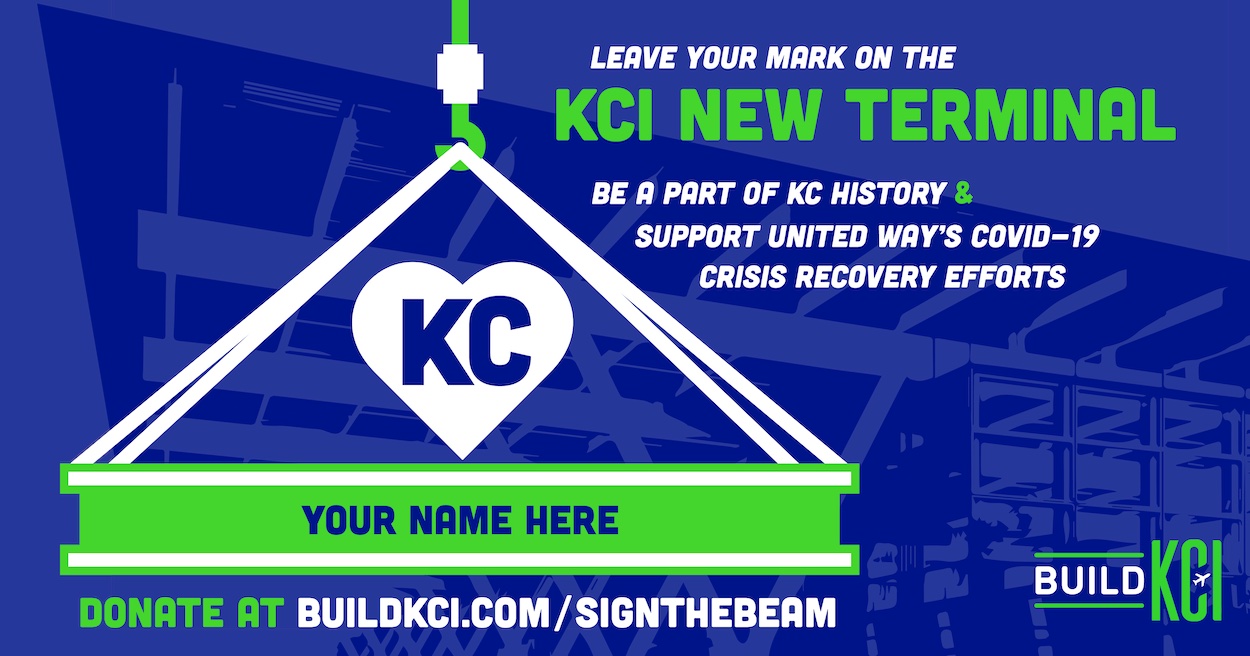 Supporting the Kansas City community is a top priority for the entire Build KCI Team. As we near completion of structural steel work and prepare to top out the New Terminal, we're inviting the community to mark this milestone with a virtual beam signing and an opportunity to provide help and hope to our neighbors impacted by the pandemic through support of United Way's COVID-19 crisis recovery efforts.
Leave your mark on a piece of Kansas City history while supporting COVID-19 recovery efforts in our region. Click the button below to donate to the United Way.

Your donation will make a meaningful impact at a time when it's needed most. Donations will be accepted until noon on December 11, 2020.
HOW OUR VIRTUAL BEAM SIGNING WORKS
Through our Sign the Beam campaign, you can add your name to one of the last steel beams to be placed in the New Terminal when you make a donation to the United Way. Just click the Make the Donation button above, select your donation amount, enter your payment information, and include the name you'd like listed on the beam. Donor names will be added to the beam prior to its installation in the New Terminal in late December. Due to the significant need in our community, a minimum donation of $25 is suggested, but all donations are appreciated.
WHERE DOES MY CONTRIBUTION GO?
All donations will go directly to the United Way to support a variety of needs in our community:
Childcare – The formative years of a child's life create their path for the future. In the immediate aftermath of the COVID-19 outbreak, UWGKC invested more than $700,000 into early learning centers.
Healthcare Access – Everyone deserves healthcare. UWGKC has invested nearly $1 million to provide access to healthcare to more than 150,000 individuals in the Kansas City metro area.
Rent/Mortgage Assistance – Shelter is critical. UWGKC supports 20 programs that provide these services, which allow more than 121,000 individuals to stay in their homes.
Utility Payment Assistance – Keep the lights on. UWGKC is supporting programs that provide services to approximately 15,000 low-income households.
Case Management – Proper, trained care. More than 3,000 of our neighbors have access to case management services because of UWGKC funding.

WHAT IS A STEEL BEAM SIGNING?
A hallmark in the construction industry, a steel beam signing commemorates the completion of steel operations and honors the accomplishments of the craftworkers who are bringing the facility to life. Much like our dedicated construction workforce, Kansas Citians have paved the way for a world-class New Terminal, and we're excited for you to leave your mark on a piece of Kansas City history.