Region's construction industry prepared to work safely amid rise in coronavirus cases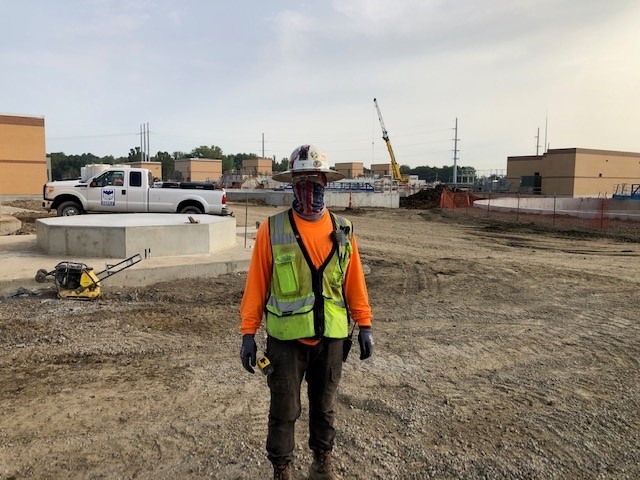 Construction workers follow strict safety measures every day on job sites, so they are well-prepared to follow additional coronavirus guidance to reduce the spread of the virus while at work.
Keeping the construction industry mobilized throughout the COVID-19 pandemic has proven necessary to meeting the needs of local communities and the economy. Construction workers have built, maintained and repaired critical infrastructure, health facilities and data centers, among other projects. Additionally, they have responded to immediate recovery needs before and after hurricanes, wildfires and other natural disasters.
"Advancement of our industry starts with placing safety first, and through extensive collaboration within and around the industry, protocals for working safe during a pandemic have been built," Don Greenwell, president of The Builders' Association and a chapter of the Associated General Contractors of America (AGC), said. "Commitment to workforce safety is a top priority for commerical construction employers, and regular training and quality control checks are in place to ensure a safe work environment."
Greenwell explained that The Builders' and AGC have worked closely with local and federal elected leaders and industry experts since the beginning of the pandemic to issue guidance and ensure proper measures have been deployed to reduce the spread of the virus.
The Builders' Association provides resources locally
For COVID-19 information specific to construction, The Builders' Association has established the COVID-19 Action Center on the homepage of their website at www.buildersassociation.com.
The COVID-19 Action Center includes safety and health best practices, as well as summaries of federal and local laws and orders. For workers with questions and concerns, a hotline has been established at (816) 595-4164.
"The industry has a great obligation to the public to maintain critical infrastructure, but with that comes an immense responsibility to maintain the well-being and safety of the workforce," Greg Davey, Builders' Labor Relations Director, said. "The hotline is available to workers so that any concerns can be addressed quickly and effectively."
Technology helps employers reduce the spread of the virus
Data is key to tracking and slowing the spread of the virus, so construction employers have turned to technology to help get a handle on positive coronavirus cases before they turn into outbreaks on a job site.
McCownGordon Construction in Kansas City needed to react quickly last spring, but the tools available at the time were limited. They decided to adapt technology they were already using to help with both identifying positive cases early and with contact tracing.
"We use Office 365, so we created QR codes linked to Microsoft Forms that everyone who enters a job site can scan to complete a coronavirus questionnaire," Dustin Burns, McCownGordon Construction's vice president for information technology, said. "We also have digital temperature kiosks where people get a bracelet after they pass the temperature check. It boils down to knowing who was on a job site and when, so the logs and questionnaires come together to build a picture."
As the general contractor for the new 1.08-million-square-foot warehouse distribution center in Kansas City, Kansas, McCownGordon is expected to meet tight turnaround times. This means reducing lost manpower due to quarantine requirements from close contact, and so even more advanced technology was implemented to help.
Triax Proximity Trace is being implemented on that job site, a tool that signals to workers when they need to move apart from others, and the technology allows McCownGordon to quickly pull reports of everyone who had more than 15 minutes exposure to an infected individual. This kind of data avoids having to shut down a whole job site by pinpointing exposures.
"It's really a team effort," Burns said. "We have to rely on our trade partners to take the same level of caution we do, but we've had really good luck, and everybody's been on board and helpful."